Monday
I like this picture, you can feel the cold. This is the new approach to GatPark P17, through the construction zone on Highway 5. I had to drive by twice to find it. An ugly and strange juxtaposition to the beautiful woods beyond.
Hardwood predominates in the region, especially along the southern trails. This part of the park is remarkable for the diversity of the forest. It might be the most beautiful ski trail in the park.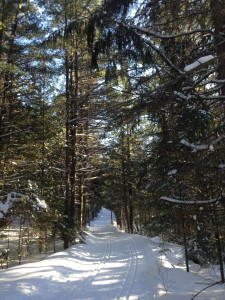 And it was cold.
I found a spur off the main trail to Wakefield, so I followed it to a sudden end:
Under Highway Five, a very unique xc ski feature.
Thursday
Great to be back in Whistler. The conditions were poor, but the mountain is still epic, and there is always fun to be had.
Friday
Saturday
More Harmony Horseshoe. Easily the softest snow between the two mountains.
Sunday