(Maria Vargas Llosa: The Storyteller, Death in the Andes)
Pre-amble:
I've taken a travel year with my family, heading more or less East until we find ourselves back in Quebec (or prove the Flat-Earthers correct!) I've always liked to read something from the places I travel to, and I thought it would make a fun quest to explore the world simultaneously through the books of each country we visit. Like a literary Anthony Bourdain.
Of course, we can't pretend to understand a culture from a few books; we aren't going to catalyze a series of epiphanies and insights here… …no, OK, we can pretend. And pretending is fun. And cultures are different. Arts are different. Sensibilities and worldview differ. What a boring world it would be otherwise!
And if this project doesn't turn up any cultural insights — which I'll be honest, insights are pretty far between for me — it will still be fun. So let's go.
Amble:
Peru: land of mystery!
The biggest of which is: who to read? It turned out, Peru has it's own literary giant, almost comparable to Colombia's Gabriel Garcia Marquez in terms of world and domestic stature, and poetic-polysyllabic nomenclature: Maria Vargos Llosa! That name just tastes great, doesn't it? Say it out loud. It also doesn't rhyme with anything. The closest are bossa nova, cosa nostra and Operation Barbarossa. And so, I gave up on my plans to write this instalment as a ballad.
Like Gabriel Garcia Marquez, Vargos Llosa is a Nobel prize winner and a giant of the 1960's Latin American Boom in literature. He once ran for president. (Although he lost, the winner went on to become a jailed ex-dictator. MVL went on to win the Nobel Prize for literature. Talk about your Pyrrhic defeats!)
Mario Vargas Llosa, the literary Machu Picchu of Peru, would be my taster menu for this leg of our trip.
Peru is three countries for the price of one, each with its own culture, language, and ethnicity. First, the coastal areas: Catholic, Spanish-speaking, mainly populated by the mestizo or direct descendants of Spanish colonialists (or German or Italian immigrants). Then, the Andean mountains, formerly the homeland of the Inkas, now of their descendants. Spanish and Catholicism are rule the cities, but Quechua and older religions still hold the villages. Finally, the Amazon basin, where dozens of tribes, some still uncontacted, retain much of their language, culture and physical characteristics.
Almost unique in the Western world, in much of Peru, indigenous cultures are dominant. It was (fictional) Peruvian lore that gave the faux-authenticity to the The Celestine Prophecy. Remember that? Not too prophetic, was it? Or could it be that the Trump Era is the Age of Aquarius? Mind blown. There is, actually, a thriving shamanic-tourism industry in Peru. I wrote for Smoke about my own experience in an ayahuasca ceremony when I visited over fifteen years ago. But that wasn't what we were here for this time.
The family arrived in Lima from Medellin. We were to meet up with my wife's people who were joining us for a couple of weeks of jungle and mountain touring. I just had time to read up on Vargos Llosa, scanning his huge catalogue to decide where to jump in first. And enjoy the surfing and sushi. Lima sushi is a transcendent experience.
As it turned out, Vargos Llosa had, among his novels, several that dealt deeply with these regional flavours, and the indigenous/ Western dichotomy.
I hadn't planned on reading an Amazon book in the Amazon, but looking through MVL's works, and finding an Amazon novel with amazing Amazon reviews, was too much to pass up. Celestine-level synchronicity.
At a glance, The Storyteller seemed to deal with indigenous culture, shamanism and storytelling, which was like putting an all-you-can-eat in front of Diego Maradona. I began reading it as we flew from Lima to Iquitos, the Amazonian metropolis, the largest city in the world with no road connections, and contender for the world's MTTPC crown (Most Tuk-Tuk's Per Capita). I was reading it as we boated several hours down the brown Amazon to our isolated, off-the-grid lodge.
It's brilliant. Built around a double-narrative, The Storyteller's main storyline has the narrator recounting his lifetime fascination and involvement with an Amazonian tribe, the Machiguengas, a relationship brought about by a friend of the narrator. This friend, Saul, nicknamed Mascarita due to his hideous facial colouring, was the first to become involved with the tribe. The second storyline, told in alternating chapters, is of a shaman's experiences, as told to other tribe members.
In addition to ambitiously trying to represent a shamanistic worldview, The Storyteller spins a great yarn. It deals with the schism between indigenous and Western world views with nuance and intelligence. It looks at it anthropologically, philosophically, economically, politically. It looks at it abstractly from a thousand feet, and practically, in your face. It mashes in themes and ideas like beauty and ugliness; Judaism; Kafka (and a bird named Gregor Samsa); and much more. Perhaps most importantly, the power of storytelling. But all in service to the yarn.
This is a book rich in story and idea.
Here's a scene from early in the book, with Saul returning from a visit, explaining Machiguenga culture to the narrator in a Lima tavern.
The most important thing to them was serenity. Never to make mountains out of molehills or tempests in teapots. Any sort of emotional upheaval had to be controlled, for there is a fatal correspondence between the spirit of man and the spirits of Nature, and any violent disturbance in the former causes some catastrophe in the latter.

"A man throwing a fit can make a river overflow, and a murder make lightning burn down the village. Perhaps that bus crash on the Avenida Arequipa this morning was caused by your punching that drunk yesterday. Doesn't your conscience trouble you?"
The main storyline is told as a meditation on the part of the narrator, decades later, still trying to come to grips with his friend's sudden, apparently planned, disappearance into the jungle (a kind of Into the Wild/ Grey Owl-thing). The narrator is unravelling a personal mystery, the circumstances and psychology of Mascarita's dissapearance.
I think it is true to say that in those last months we never again had those endless dialogues, with both of us speaking our minds freely and frankly, that had been so frequent between 1953 and 1956. If we had kept them up, would he have opened his heart to me and allowed me to glimpse what his intentions were? Most likely not. The sort of decision arrived at by saints and madmen is not revealed to others. It is forged little by little, in the folds of the spirit, tangential to reason, shielded from indiscreet eyes, not seeking the approval of others—who would never grant it—until it is at last put into practice. I imagine that in the process—the conceiving of a project and its ripening into action—the saint, the visionary, or the madman isolates himself more and more, walling himself up in solitude, safe from the intrusion of others.
A recurring idea is of the Machiguenga tribal storyteller, la habladore. The narrator learns of them, not from Mascarita, but from his own work with the Machiguenga for a documentary TV series he produced. We understand then, that the alternative narrative is of one of these habladores.
I was deeply moved by the thought of that being, those beings, in the unhealthy forests of eastern Cusco and Madre de Dios, making long journeys of days or weeks, bringing stories from one group of Machiguengas to another and taking away others, reminding each member of the tribe that the others were alive, that despite the great distances that separated them, they still formed a community, shared a tradition and beliefs, ancestors, misfortunes and joys: the fleeting, perhaps legendary figures of those habladores who—by occupation, out of necessity, to satisfy a human whim—using the simplest, most time-hallowed of expedients, the telling of stories, were the living sap that circulated and made the Machiguengas into a society, a people of interconnected and interdependent beings. It still moves me to think of them, and even now, here, as I write these lines, in the Caffe Strozzi in old Firenze, under the torrid July sun, I break out in goose pimples.

"And why is it you break out in goose pimples?" Mascarita said. "What is it you find so fascinating? What's so special about habladores?"

A good question. Why hadn't I been able to get them out of my mind since that night?

"They're a tangible proof that storytelling can be something more than mere entertainment," it occurred to me to say to him. "Something primordial, something that the very existence of a people may depend on. Maybe that's what impressed me so. One doesn't always know why one is moved by things, Mascarita. They strike some secret chord, and that's that."
Here, the narrator offers his own take on why I am so impressed with Vargos Llosa's balls:
Talking the way a storyteller talks means being able to feel and live in the very heart of that culture, means having penetrated its essence, reached the marrow of its history and mythology, given body to its taboos, images, ancestral desires, and terrors.
The Storyteller rates a solid 8.4/10. As for our little tribe, we spent our time in the Amazon hiking the jungle and listening to the stories of our guide, Paul. Paul leads expeditions for scientists and documentary makers deep in the jungle. He's had close encounters with jaguars, anacondas, boa constrictors, bushmasters, and giant alligators, and laughs at the Wikipedia-listed max size for the beasts.
Paul took us piranha fishing, using bits of raw beef as bait, on hooks hung from bamboo poles. They were biting all afternoon, filling a bucket.
That evening, we returned to the same creek to swim with the river dolphins as the sun set. It was glorious—terrifying, beautiful and refreshing, all at once. The local tribes have a legend (per Paul) that the pink dolphins steal women from the villages, and the women become pink dolphins and never come back.
One night we went for a back-water boat ride in a long, low wooden boat. We had only our headlamps, just catching glimpses of the gnarly, entangled limbs of trees, and flashes of the green vines and lily pads that carpet the surface of the water. It was hella creepy. We were looking for the glimmering eyes of Cayman alligators. Suddenly, Paul dives from the boat, splashing into the water and disappearing. Holy shit!, every one of us thought. A moment later, he climbed back on board, grinning from ear to ear, holding a baby Cayman for us to admire.
At the end of our Amazon stay, an hour or so out of Iquitos, I get cell service. Tennis scores. Upcoming hotel info. Contract stuff on an audiobook. And a bunch of crap. Just three days off the internet, and I think it's the longest in a year, since my last camping trip.
Vargas Llosa don't surf! But we do. Maybe he do surf.

Piranha fishing.

One of us would be eaten that day.

Amazon sunset after swimming with the dolphins. (Not in the Luca Brassi sense.)

Paul was, frankly, mad
After the serendipitous synchronicity of The Storyteller in the Amazon, it happened that the next book of MVL's that I was most interested in, as we flew to the ancient Andean city of Cuzco, was Death in the Andes. I've been on a murder-mystery kick (Agatha Christie, Sherlock Holmes, Dashiell Hammett, Raymond Chandler, Mickey Spillane…), as I'm working on one myself (I mean, a novel, not trying to solve an actual murder). So Death in the Andes was doubly-synchronous, and again, the on-line reviews and plot were enticing.
Like The Storyteller, Death in the Andes is told through a dual-narrative: the first is the buddy-detective story, a senior and junior cop unraveling a series of disappearances at their remote outpost by a highway work camp. In the backdrop of the mystery, the communist Sendero Luminoso terrorists; the vicious cocaine cartels; massive landslides; and the angry spirits invoked by the camp's superstitious residents are 'out there', ready to drop in and destroy these two completely isolated cops at any time.
Finally, the voice of the adjutant rang in Lituma's ears as if he were offering condolences: "I'll tell you something. You and I won't get out of here alive. They have us surrounded, what's the point of kidding ourselves?"

Lituma shrugged. Usually he was the one who felt demoralized, and Carreño had to cheer him up. Today they had changed places.

"Don't brood about it, Tomasito. Otherwise, when they do come, we'll be in such bad shape we won't even be able to defend ourselves."

The wind rattled the sheets of tin on the roof, and little gushes of rain spattered the interior of the cabin. Surrounded by a protective stockade of sacks filled with stones and dirt, their quarters consisted of a single room divided by a wooden screen.
This storyline is intercut with a sexy-tale the junior cop tells the senior cop in a series of lights-out bedtime conversations, a story told brilliantly around the interjections of the audience of the senior cop in the dark:
"Oh God, before they come and kill us, let me fuck a woman just one more time," Lituma pleaded. "Son of a bitch, since I came to Naccos I've been living like a eunuch. And your stories about the Piuran get me hot, Tomasito."
This time, a third element is introduced: marginally related, contemporary events involving the Sendero Luminoso, each showing another brutal encounter in the region, maximizing the tension and fear we feel for these poor cops, waiting night after night to be butchered in their sleep.
In one of the Sendero-terror postcards, a young French tourist couple is pulled from the night bus to Cuzco at a militia roadblock, and pummelled to death by rocks. So… two months in, our trip is going better than that! (Weirdly: I published my novel Safari months before this trip. In the opening scene, a young American tourist couple are pulled from the night bus to Nairobi at a questionable roadblock during a time of civil strife, a scene I'd taken from real-life life experience. Had Vargas Llosa been reading my letters from the future?)
The line between past and present, myth and life feels blurred for any visitor in the high altitude of Cuzco and around, helping along the storytelling, supercharging it with immersive actual-reality atmosphere. It is the former capital of the Inka Empire; you see the remnants of their great buildings, and feel their ghosts in the alleys. We went horseback riding in the mountains, visiting caves used as ancient temples. Worshippers today still come and make offerings or burn coca leaves to honour the god of the moon and Pachamama, the earth goddess.
Death in the Andes has a bacchanalian feel, of superstition mingling with orgiastic loss of self. There's something mystical and mythic fizzing in your brain as you read. Yet more synchronicty—I had just downloaded Euripedes' The Bacchae to read, in which Dionysus, god of ecstasy and epiphany visits Thebes. One of the main suspects in the central mystery, the keeper of the work camp cantina, is Dionisio. He and his witch-like wife are the gateway between our policemen's modern urban psyches and the ancient animist world of the mountains.
Here's a section on the local vampire myth, as told by Dionisio's wife:
The pishtaco can cut out your insides and you won't even notice or feel any pain. That's what Stud did, and starting that night Sebastián began to lose weight, and he got smaller and forgot everything he knew. Just like Juan Apaza. And finally he died too. That's what happened back when Naccos made its living from the Santa Rita mine, and that's what's happening now, when Naccos makes its living from the highway. Misfortune won't come from the terrucos who are executing so many people or taking them away to be in their militia. Or from the pishtacos that are wandering around. Sure, they always come when times are hard, the Ayacucho invasion proves that. There must be a few around here, in the caves in those hills, collecting their supply of human fat. They must need it down in Lima, or in the United States, to grease the new machines, the rockets they send to the moon. They say no gasoline or oil can make all those scientific inventions work like the fat of a serrano.

And here, she describes the real meaning of dance.
…forgetting yourself, leaving yourself, until you feel that the dance is dancing you, that it's deep inside you, that it commands and you obey, this is the path to wisdom. You are no longer yourself, I am no longer myself but all the others. That's how we leave the prison of the body and enter the world of the spirits. By singing. Dancing. Drinking, too, naturally. You travel when you're drunk, Dionisio says, you pay a visit to your animal, you shake off worry, you discover your secret, you become who you really are. The rest of the time you're in prison, like the corpses in the ancient tombs or the cemeteries we have today. You're somebody's slave or servant, always. When we're dancing and drinking, there are no Indians, no mestizos, no white señores, no rich or poor, no men or women. The differences are wiped away and we become like spirits: Indians, mestizos, señores, rich and poor, women and men. Not everybody travels when they dance or sing or drink, only the best ones. You have to have a will for it and lose your pride and shame and come down from the pedestal where people have put themselves. The man who doesn't put his thoughts to sleep, who doesn't forget himself, or throw off his vanity and pride, or become the music when he sings and the dance when he dances and drunkenness when he drinks—that man does not leave his prison, does not travel, does not pay a visit to his animal or rise up to become spirit. That man does not live: he is decay, he is the living dead.
And he cannot nourish the spirits of the mountains, either. They want first-rate creatures who have freed themselves from their slavery.
8.6/10. The Storyteller gets extra marks for ambition, but Death in the Andes is just so intense, and takes you almost as far into another world as The Storyteller.
After some time in Cuzco, we hiked the Inka Trail, winding higher and higher on the mountainside over the Urabamba river, the trail sides dropping into sheer cliffs in sections. Naturally, my 10-year-old boy and his cousin decided this would be a good time to do races. The end of the trail is a brutal stone staircase, known as the gringo-killer, up to the Sun Gate, the first viewpoint of Machu Picchu itself, the hundreds-year old royals-only entrance. I'd been here almost twenty years earlier. I was contending with the ghost of my younger self as well. This happens more and more as I age.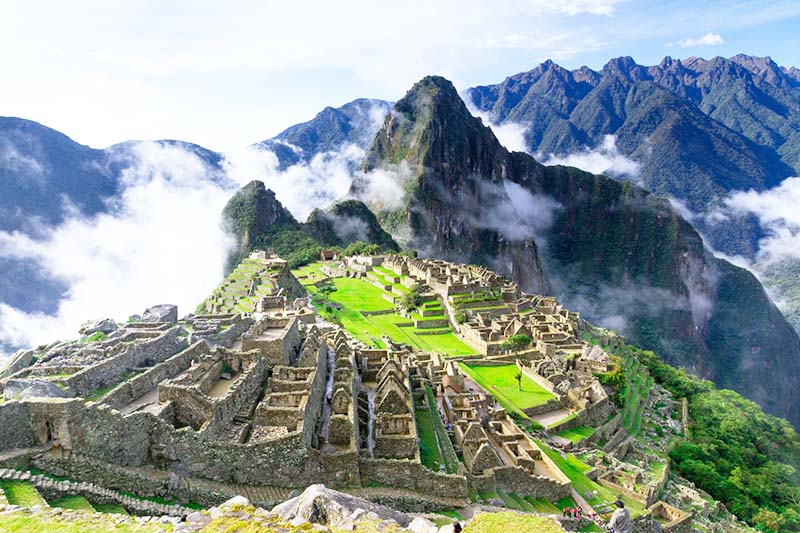 Machu Picchu is a vast, crumbling stone complex, some six hundred years old. As ruins go, it may not be the grandest. But location is everything. Machu Picchu seems spotlighted by the sun in the only land clear of the jungle clinging to the mountains that surround it. It juts out from clifftop terraces that are the only flat land in view, and at the edges plunge hundreds of metres to the river foaming in a white, mute ribbon below. The iconic pillar of Huayna Picchu rises above it in the background. It feels like adventure.
I'd built Machu Picchu up for seventeen years to my wife. It is a place that you can't oversell.
Returning to Cuzco, my wife and I sat on a second-floor pub patio, looking out over the main Colonial-era square. There was another second-floor patio kitty-cornered from us, and we saw a patron accidentally knock a plastic mustard bottle off the railing. The bottle smashed on the sidewalk, spraying the pants of a grizzled old tourist and his female companion. He looked quite a bit like Jeremy Corbyn. The guy spent the next half hour outraged, shaking his fist up at the patio, and showing everyone who passed by the stain on his butt. Finally, he got the police. You could see their poker faces as he explained the seriousness of the crime. He dragged them into the bar. They never came out. I can only imagine they ditched the idiot and got drunk instead.
What else can I say about these books? Not only was Vargas Llosa a superior writer to Garcia Marquez, he also mocked him as a Castro bootlick in the 70's; once threw a punch at him in a Mexico City cinema (apparently over a woman); and covered the Spain World Cup. Game, set, match, Vargas Llosa.
(Another gratuitous The Producers reference, from Franz Liebekind, author of Springtime for Hitler: "Hitler was better looking than Churchill. He was a better dresser than Churchill. He had more hair! He told funnier jokes! And he could dance the pants off of Churchill!")
Peru is a place of big experiences: the Amazon, the Andes, Cuzco, Machu Picchu. Colombia was a place that was simply, exquisitely beautiful to be in. I could stretch this as a metaphor: Vargas Llosa books are adventures that stick. Garcia Marquez are… nah, it doesn't work.
#TeamVargasLlosa
One day in Puno, on the shore of Lake Titicaca, my kids tell me of the fantastic moments in their respective books the night before (Harry Potter for the boy and Land of Stories for the girl). Jaw-dropping, story-turning moments they needed to tell immediately, breathlessly. It made me so happy.
When I am back in my world, I will read Vargas Llosa again. He has a massive body of work, and I can't wait to dive back in.
But that's a loooooong ways away. See you next time in Argentina.  
They don't take kindly to trumpets in Cuzco

A reunion with my shaman of 17 years earlier