Monday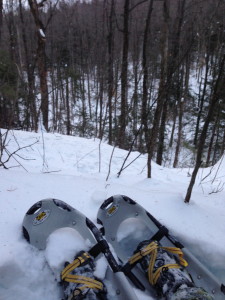 Freezing rain put a shell on all the beautiful powder we've gotten, but there's always a sport to match the conditions. This time snowshoeing.
I went out for a half hour, but stayed an hour and a half, once more, completely lost in my backyard woods as the sun goes down.
Tuesday
First cross country ski of the year, getting reacquainted with beautiful Gatineau Park in wintertime. I took a trail near my house I've taken a dozen times, but somehow found this short trail stub that brought me to a lake lookout I'd never seen before. This is (one of) the magical attributes of Gatineau Park. You always find new things.
Halfway into my ski I crossed the groomer, and had this beautiful cream to ski the downhill return trip.
.
Thursday
One of my favourite times of day to be out in the woods is late afternoon/ pre-sunset, when the sideways light casts great shadows across each scene, with random details highlighted. There's a kind of magic to it, especially off trail in the bush where the sunlight comes through in 3-dimensional blocks of light. Thursday was quick and beautiful xc ski.
I cast a long shadow in the Parc.
Saturday
Rainy day of downhill at Mont Tremblant. The kids were in lessons, so we couldn't miss the chance for "free" skiing.
Sunday
Sunday was a day of rest. Of a sort. A family xc ski along Lac Mercier (Mont Tremblant)
The January thaw leaves a hockey net wet and lonely. A Sutter-esque commentary on the state of the game in Canada?